Know the J&B Difference
The quality of our exterior home improvement services are no accident: When you combine experience, knowledge, and standards, the only possible result is quality.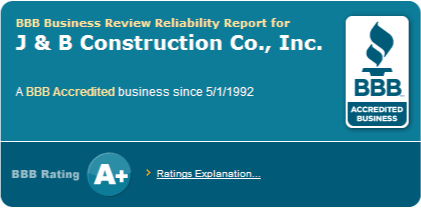 J&B Construction is a proud member of NARI and the Better Business Bureau.
Permits
J&B Construction takes care of all applicable permits, saving you valuable time and additional costs.
Insurance
Upon request, our insurance carrier supplies proof of Liability and Workman's Compensation Insurance directly to you.
Disposal
No dumpster – giving you full access to your driveway and garage on a nightly basis. Also avoids driveway damage that may occur from heavy dumpsters.
Certified Installers
J&B Construction employs certified installers, ensuring you quality installation that meets J&B's superior standards.
Nailing Specs
Accurate nail depth and placement that follows the manufacturer's installation guidelines ensures that all work will comply with the manufacturer's warranty.
Completion Inspection
A thorough inspection of the completed job ensures that all specifications of the contract have been completed and meet J&B's superior standards. A lien waiver and manufacturer's warranty will be provided.
Payment on Completion
Ensures that all materials have been delivered and the installation has been completed as promised, before any money leaves your pocket.
12-Year Installation Warranty
Industry-leading warranty backed by a company that has been serving homeowners since 1958.