"As the falling leaves quickly turn to falling snow, it's important that your roof is prepared for the winter months ahead," said Scott Cline, owner of J&B Construction. "Snow, sleet, and ice are all capable of jeopardizing your roofing system, so it's essential to carefully evaluate your roof before wintertime in order to avoid costly damage and repairs." When you take initiative now for winter roof maintenance, you're taking an active step towards protecting yourself and all those living in your home, in addition to the property itself.
One of the first tasks on your winter roof maintenance checklist should be to clean your gutters. "Leaves, branches, and other debris have a tendency to accumulate in your rain gutters, especially in autumn, which can prevent water from draining properly during rainstorms," said Scott. Moreover, when temperatures drop to 32 degrees or below, the excess water in the gutters will freeze and the added weight could cause the gutters to sag or even break off, resulting in roof damage. "To be proactive, consider trimming the trees in your yard, especially if there are any limbs that extend over your gutters and roof. This will help reduce the amount of debris that ends up in your gutters in the first place," he said.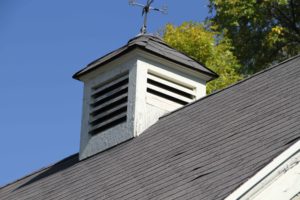 Observing the roof itself before the first snowfall should also be on your checklist, as this will allow you to anticipate potential issues. You can survey the condition of your roof from the ground level, eliminating the need for a ladder. "Specifically, you'll want to keep an eye out for any missing shingles and examine the state of the flashing surrounding the chimney and the eaves," Scott said. "Carefully note any damage you suspect was the result of strong storms. It's critical to address any and all roof damage as soon as you notice it in order to prevent a minor problem from blooming into a major concern."
Your attic may not be the first space that comes to mind when determining whether or not your roof is equipped to handle another winter, and yet it plays a pivotal role in a home's roofing system. "The attic space is reliable in terms of revealing serious roofing problems," he said. "For instance, a poorly insulated attic can lead to the formation of ice dams in your gutters, which can cause structural damage to your home. Not to mention improper attic insulation can negatively impact your home's energy efficiency, consequently raising your energy bills." Therefore, it's important to check that your attic has the appropriate amount of insulation, but at the same time does not block soffits, vents, or overhangs. "Additionally, be sure to remove any pieces of waste from the ridge vents," Scott said. "While cleaning, look for any cues that suggest rodents may have tampered with the screens that cover your attic vents."
Another concern is evidence of water or moisture in your attic. Leaks are extremely dangerous, as they can compromise the structural integrity of the roof. "If you notice water is leaking from your roof and into the attic, be sure to contact a roofing professional immediately to prevent any further damage," said Scott.
When it comes to your roof, it's important to stay ahead-of-the-curve with winter roof maintenance for the safety of yourself and all others living in the home. "As we know, winters in southeastern Wisconsin can be severe, so it's critical to keep your home's roofing system, which is your home's first line of defense against the elements, operating at peak performance," he said. "Adhering to this checklist allows you to rest easy, as well as save time and money, knowing that your roofing system has been thoroughly scrutinized and any and all concerns have been addressed prior to winter."