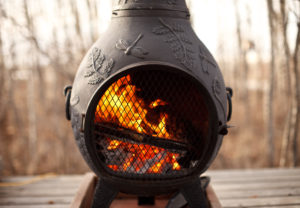 Often times, an impending stretch of cold weather is synonymous with indoor activities and even cabin fever, but it doesn't have to be that way. "It's a common misconception that a deck can only be utilized during warm weather; in actuality, you can enjoy your deck all year long with just a few easy adjustments," said Scott Cline, owner of J&B Construction. "Decorating, adding heat sources, installing a patio cover, or investing in a hot tub will ensure your outdoor space is comfortable and inviting throughout all four seasons, helping you make the most out of your investment." Here are some ideas to help you enjoy your deck during colder months.
When cold weather hits southeastern Wisconsin, many outdoor plants must be moved indoors in order for them to survive, but this doesn't mean that you can't keep your deck green and lush. Miniature evergreen trees, boxwood shrubs, cypress plants, and poinsettias are hearty enough to tolerate cooler weather while keeping your deck bright and cheerful. Outdoor LED lights can also be hung during the holidays, or strings of globe bulbs can be hung anytime for a cozy feel. Remember, an empty deck can feel uninviting, which can deter people from using the space. "Decorating your outdoor deck for the season will ensure it's the place to be throughout the year," said Scott.
Undoubtedly, the main culprit that discourages many homeowners from using their outdoor deck in the fall and winter is colder temperatures. However, by strategically placing patio heaters around your outdoor space, you can create a warm and inviting environment that will keep you and your guests warm despite wintry weather. "For even more warmth, consider adding heat lamps and a wood-burning or propane-fueled fire pit," he said. "If you are in the design stage of building your new deck, you may want to consider incorporating a built-in fire pit into the space."
A patio cover is ideal for a deck during colder months when the leaves begin to fall and the temperatures dip, because as we know, lower temperatures are a precursor to more severe weather such as sleet, snow, and ice. Not only is this weather unpleasant to experience, but it can also expedite the weathering and fading process in the materials used to construct a deck. "A patio cover helps inhibit the cold weather from intruding, so you can fully appreciate your outdoor furniture and your deck while observing the snow flurries from a protected space," Scott said.
Installing a hot tub is another option. A deck is a prime location for a hot tub, as it allows homeowners to indulge themselves with their own private outdoor spa. "There's nothing more inviting than stepping into the heated swirling waters of a hot tub to escape cold weather," Scott said. "If you do decide to install a hot tub with your new deck, you'll want to pay particularly close attention to placement, as you'll have to be cautious of water spillage."
When you increase your living space with an outdoor deck, it's only natural to want to take full advantage of it and not be cooped up inside. J&B Construction wants to make sure you can use your deck during colder months. "By simply incorporating a few modifications, you can ensure your outdoor space reaches its highest potential, whatever the season," he said.